Case Study Activities Review
By: Rachel Nall, MSN, CRNA, APRN, Assistant Clinical Professor and Simulation Lab Coordinator, University of Tennessee at Chattanooga Nurse Anesthesia Program 
Review of Case Study 21
I chose Case Study 21 as one of my learning options. The video features a young, female patient actor named "Sam" and an offscreen interviewer. She describes her emotions and feelings, providing diagnostic information both from her personal reports and her movements. I was able to take notes from the video as well as read a transcript, which helped me to identify common themes from the interview.
Following watching the video, I was able to take a 13-question test regarding symptoms I observed. The questions included quotes from the video and how to characterize these statements based on the language found in the DSM-5-TR. An example included reviewing statements that illustrated Sam's anxiety levels. Question formats included multiple choice and true and false. Key terms included a "flight of ideas" and "psychomotor agitation."
The activity took about 20 minutes to complete and engaged my critical thinking skills. Smartly, the case studies aren't divided into different categories. This means you are able to approach each case study much like you would a client or patient interview. The post-test questions challenge your observations as well as abilities to categorize a client's symptoms into different DSM-5-TR diagnostic factors.
I'll be the first to admit – I didn't make a 100 on my attempt. To me, this illustrates the value of the case study. I could review my answers and identify lines of thinking where I could improve. I appreciate that the post-test was challenging. This created a more valuable learning experience for me.
Review of Case Study Activity 8
In addition to Case Study 21, I also completed Case Study Activity 8. The activity began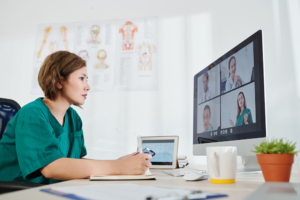 with an 11-minute video that featured Daniel, a young male patient actor, and Dr. Lindsey, the offscreen interviewer. After watching the video, I participated in a 10-question post-test about the activity. Questions included "What is the most likely diagnosis?" Additional questions were regarding symptoms Daniel exhibited during the interview.
The post-test concluded with a question regarding the best approach in the referral process. These questions felt like a comprehensive assessment and conclusion to the video series. After I completed the assessment, I was able to review my answers and rationales for each answer. The answers included explanations as to why some choices were incorrect, which helps in my learning process.
Like many of the other case studies I've had the opportunity to review, this case study allowed me to utilize my observation and diagnostic skills. I was able to assess the client and test if my own observations matched up to traditional diagnostic criteria.
Conclusions
The case studies are extremely engaging – they don't feel like work. Each one brings its own challenges, and I commend the patient actors for their commitments to their roles. The degree of professionalism enhances the clinical value. I would recommend these case studies for multiple settings: a health professional wishing to sharpen their assessment skills or a professor showing the videos and engaging their students in conversation regarding the post-test. Using these case studies as a teaching tool would be a creative way to blend together didactic and hands-on content.