Board of Advisors
&

Subject Experts
Major General (retired) Elder Granger
MD, FACP, FACPE, CMQ, Board of Advisors
In July of 2009 after 37 years of Military service Major General Elder Granger, MD retired as the Deputy Director and Program Executive Officer of the TRICARE Management Activity, Office of the Assistant Secretary of Defense (Health Affairs), Washington, DC.
Read More
Most Recent Assignment – Deputy Director, TRICARE Management Activity
Office of the Assistant Secretary of Defense for Health Affairs
In July of 2009 after 37 years of Military service Major General Elder Granger, MD retired as the Deputy Director and Program Executive Officer of the TRICARE Management Activity, Office of the Assistant Secretary of Defense (Health Affairs), Washington, DC. In this role he served as the principal advisor to the Assistant Secretary of Defense (Health Affairs) on DoD health plan policy and performance. He oversaw the acquisition, operation and integration of DoD's managed care program within the Military Health System. MG Granger led a staff of 1,800 in planning, budgeting and executing an $19 Billion Defense Health Program and in ensuring the effective and efficient provision of high-quality, accessible healthcare for 9.4 Million Uniformed Service members, their families, retirees and others located worldwide.
Prior to joining TRICARE Management Activity, MG Granger led the largest US and multi-national battlefield health system in our recent history while serving as Commander, Task Force 44th Medical Command and Command Surgeon for the Multinational Corps Iraq. He has led at every level of the Army Medical Department.
MG Granger began his career with the Army Medical Department in 1971 as a Combat Medic in the US Army National Guard. He earned a Bachelor of Science degree from Arkansas State University in 1976. A Distinguished Military Graduate, MG Granger was commissioned through the Reserve Officer Training Corps. Upon graduation from the University of Arkansas School of Medicine in 1980, he was awarded the Henry Kaiser Medical Fellowship for Medical Excellence and Leadership. MG Granger completed a residency in Internal Medicine in 1983 and a fellowship in Hematology-Oncology in 1986 at Fitzsimons Army Medical Center. His Military education includes the Army War College, the Army Command and General Staff College, the Army Medical Department Officer Advanced and Basic Courses, the Military Health System and Army CAPSTONE Courses, and the Combat Casualty Care Course.
MG Granger continues to advance his passion for patients and healthcare improvement through advising and supporting teams across the spectrum of healthcare. He and his wife Brenda now live in Colorado. Their son Elder II is a lawyer and their daughter Eldesia is a M.D.
Don Fidler, MD
Co-Founder & Senior Clinical Consultant
Dr. Donald Fidler's expertise and background is the cornerstone of this unique collaboration between professional filmmakers and mental health professionals.
Read More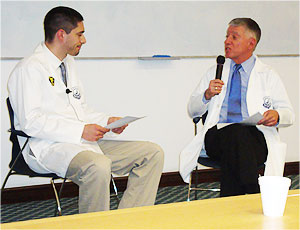 Dr. Donald Fidler brings over thirty years of experience as a psychiatrist, actor, educator, screenwriter, playwright and filmmaker to Symptom Media. Don built his reputation as the cutting edge leader in utilizing clinical training vignettes to teach the behavioral sciences, combining his unique skill set as a psychiatrist, playwright, screenwriter, actor, and teacher to create accurate, realistic portrayals of psychiatric symptoms and disorders. Don's expertise and background is the cornerstone of this unique collaboration between professional filmmakers and mental health professionals.
Dr. Donald Fidler has lectured and taught throughout the United States as well as in Canada, Australia, New Zealand, Israel, and Oman. Don served as President of the Association for Academic Psychiatry, Chair of the Video Committee for the American Psychiatric Association, and was awarded the Life Time Achievement Award for the Association for Academic Psychiatry.
Dr. Donald Fidler is Professor Emeritus at West Virginia University where he served as the Farnsworth Endowed Chair of Educational Psychiatry and as the Director of the WVU Health Sciences Teaching Scholars Program. He continues to be an Adjunct Professor of Theatre at West Virginia University. He graduated from the School of Medicine and completed his Psychiatry Residency both at the University of North Carolina at Chapel Hill. He served on the Psychiatry Faculty at both the University of North Carolina at Chapel Hill and West Virginia University as well as serving as a psychiatrist in Australia and New Zealand. He is an Honorary Fellow of the Royal College of Physicians of Ireland. He teaches playwriting at MTPockets Theatre in Morgantown, West Virginia and consulted and appeared for educational programs with psychiatric content for PBS, HBO and FOX. He is the composer/author of over 50 produced educational clinical films, 12 major plays, and three musicals.
Elisabeth Morgan Stafford


MD, FAAP, FSAHM, Colonel (Retired)
Medical Corps, US Army, Board of Advisors

Dr. Elisabeth Morgan Stafford has extensive expertise with military families. Dr. Stafford provides Symptom Media with consultation on adolescent medicine/pediatrics expertise with focus on mental/behavioral health screening in the primary care setting.
Read More
Dr. Stafford's past and present experiences include:
Division Chief, Adolescent Medicine, San Antonio Military Pediatric Center, San Antonio, TX
Consultant in Adolescent Medicine to the Army Surgeon General
Program Director, Adolescent Medicine fellowship, San Antonio Uniformed Services Health Education Consortium, San Antonio, TX
Chief, Adolescent Medicine Service, Department of Pediatrics, Walter Reed Army Medical Center, Washington
Chief, Adolescent Medicine Service, Department of Pediatrics, Tripler Army Medical Center, Honolulu, HI
Chief, Adolescent Medicine Service, Department of Pediatrics, Madigan Army Medical Center, Tacoma, WA
Clinical Professor in Pediatrics, University of Texas Health Science Center San Antonio
David Baron


MSEd, DO, Board of Advisors

Dr. David Baron is currently a professor of psychiatry at the Keck School of Medicine at University of Southern California,
Read More
Director, Global Center for Exercise, Psychiatry and Sports at USC and Adjunct professor at the USC School of Cinema-Television. Dr. Baron is currently working on cutting edge research on Traumatic Brain Injuries funded by the NFL.
Dr. David Baron's past experience includes:
➢ Deputy Clinical Director, National Institute of Mental Health (NIMH)
➢ Director, Medical Student and Residency Education, National Institute of Mental Health (NIMH)
➢ President, American College of Neuropsychiatrists
➢ NIH Representative, Alcohol Drug Abuse and Mental Health Administration, Office of Education
➢ Editor-in-Chief, Journal American College of Neuropsychiatrists
➢ Chief, Psychiatric Services, Kenneth Norris Cancer Hospital and Research Institute
In addition, Dr. Baron has over eighty publications, authored or co-authored 12 books and has had over four hundred domestic, national and international speaking engagements.
Bonnie Lipton


Clinical Consultant

Bonnie Lipton, LMFT, is a psychotherapist in private practice since 1982. She works in Palm Desert, California with clients of all ages who struggle with
Read More
anxiety, mood, or depression disorders. She runs bereavement groups, women in transition groups, and a support groups for family and friends of persons dealing with cancer. She is a past President of the Desert Chapter of CAMFT.
Karen Silva


PhD (Psychology), MFN, MSN, and RN-BC, Subject Expert

Karen Silva, PhD (Psychology), MFN, MSN, and RN-BC, has won multiple awards for Excellence in Nursing. She has taught all major nursing courses, supervised nursing staff, and coordinated educational programs.
Read More
Karen's expertise is in Mental Health and Psychiatric Nursing and she has served in psychiatric units, as well as crisis centers. Karen is tri-lingual (English, Portugese, and Spanish) and a co-founder of SOBEF (Sociedade Brasileira de Enfermagem Forense) in Brazil. She is a much sought-after speaker at conferences, hospitals, and universities.
Roberta Freeman


RN, MSN, CS, Subject Expert

Roberta Freeman, RN, MSN, CS is a certified Psychiatric and Mental Health Nurse with over 35 years of experience as a practitioner, educator, consultant and researcher in the Adolescent Unit at UCLA Resnick Neuropsychiatric Hospital.
Read More
She has collaborated in program evaluation, assessing interventions to improve care, conducted comprehensive evaluation/assessment of adolescents who have been referred for treatment in the Eating Disorder program, established and monitored patient care standards, provided group therapy for adolescents, collaborated with interdisciplinary treatment team in evaluating, diagnosing, and coordinating patient care throughout hospitalization and disposition planning, and much more. She is an active member of the Academy for Eating Disorders and Advanced Practice Nursing Association.
Monica Martocci


MA, LMFT, Subject Expert

Monica L. Martocci, MA, LMFT received an M.A. in Clinical Psychology from Pepperdine University, a B.A. in Psychology from the University of Colorado, and is a licensed Marriage and Family Therapist (License #LMFT36882). Monica has over 25 years of clinical experience in diverse settings…
Read More
and has developed, implemented, and supervised several programs that are recognized locally and nationally as being exemplary. She has a broad background in program development and service delivery, clinical supervision, and training for inpatient residential treatment and outpatient day treatment programs working primarily with adolescents, adults, veterans, and their families. Monica has experience with many different client populations in a wide variety of settings, including those with severe and persistent mental illness, co-occurring disorders, addictions, homelessness, and trauma. She has worked closely with the Dept. of Mental Health, Dept. of Children and Family Services, Probation including juvenile and adult justice systems, Drug Court and Veterans Court, LAUSD and school settings, Hospitals, Regional Centers, Adoptions and Foster Family Agencies, VA, Clinical Studies/Drug Research, and has consulted on a number of television shows as an expert on families, addictions, eating disorders, and trauma. In addition, she is a seasoned presenter in nationwide conferences on the topics of trauma and recovery, and co-occurring disorders.
Monica is currently working as Chief Clinical Officer for CLARE Foundation. She also maintains a private practice in WLA and Long Beach specializing in the treatment of children, adolescents, families, active duty military/veterans, as well as individuals and couples. Focus is on addictions, co-occurring disorders, trauma, eating disorders, depression, anxiety, child/sexual abuse, domestic violence, schizophrenia, bipolar disorder, mood disorders, grief and loss, school and behavioral issues, ADHD/ADD, personality disorders, self-harm, self-esteem, and interpersonal and relationship issues.
Brenda Granger


Board of Advisors

Brenda Williams Granger is the Vice President, Chief Financial Officer and Education Consultant for THE 5Ps, LLC.
Read More
Brenda has been the Principal of Heidelberg High School in Germany; Subschool Principal, Hayfield Secondary School, Fairfax County, Virginia; Assistant Principal, Van Voorhis Elementary School, Ft. Knox, Kentucky and Crawford Elementary School, Aurora, Colorado. In addition, Brenda's various teaching positions include: Acting Administrator, 7th and 8th grade language arts, reading, social studies, and computer teacher, Emotional Behavioral Disorder teacher, and Inclusion Resource Case Manager; 6th grade science and social studies teacher, Huachuca City School, Huachuca City, Arizona; Behavioral Management Specialist/Consultant, Landstuhl Elementary/Middle School, Ramstein Jr. and High School, Germany; Learning Impaired Teacher, Ramstein Elementary School, Germany; and 9th grade english and social studies teacher, Booker Jr. High School, Little Rock, Arkansas. In sum, Brenda has taught in various school districts for 17 years.
Brenda Granger is presently involved in Community College of Aurora Foundation Board Member, Volunteer Trainer for the Military Child Education Coalition, Choir Member and tutors college students.
AWARDS AND HONORS:
The Department of the Army Decoration for Distinguished Civilian Service Medal, Honorary Member of the United States Army Medical Department Regiment, two Outstanding Civilian Service Medals, two Commander's Awards for Public Service, U.S. Army Joan of Arc Award, Certificates of Appreciation, Exceptional Leadership (Principal) cash awards, Equal Employment Opportunity Inspiration Women of the Year and Outstanding Young Women of America.
EDUCATIONAL BACKGROUND:
Brenda's educational background includes a Bachelor of Arts degree from Philander Smith College with a major in Special Education and a minor in Secondary Education, and a Graduate Degree from University of Central Arkansas with a Master of Science in Education.
Brenda completed studies in Education Leadership at the University of Northern Colorado and received Principal License. In addition, Brenda has completed Teacher Evaluator Training, Safe School Workshop, Maximizing Achievement and Minimizing Crises"-The Institute for Effective Education, Understanding Teaching-The Department of Defense Dependents School-Germany, Street Law in DoDEA Training, AVID Implementation Strand, Literacy Learning in the Classroom, Government Purchase Card Tutorial, Asbestos Awareness Course, Special Education Leadership Institute, Ethnics Training.

Postgraduate Professional License's Certification: Certified in Virginia in the areas of Administration and Supervision, Emotional Disturbance, History and Social Science, Mental Retardation, Severe Disabilities, and Specific Learning Disabilities.
Professional Principal License: Certified in Colorado, Educationally and Mentally Handicapped
Professional Principal License: Certified in Colorado, School Principal
PAST EMPLOYMENT COMMITTEES:
Teacher Mentor, Northwest Feeder Essentials Programs Design and Delivery Task Force, Request for Change Task Force, Multicultural Education Content Outcome Committee Adopt-A-School partnership Committee, District Process Action Team, School Induction Program, Interviewer for Aurora Public School Annual Interview Process, Project Leadership, Special Education Case Study Committee Chair, and PTO Executive Board.
PAST COMMUNITY INVOLVEMENT
Senior Spouse Liaison for the Capital Region, Red Cross Case Manager, Girl Scout Leader, Neighborhood Chairman, AMEDD Advisor, Family Readiness Group Coordinator and Leader and Chairwomen of the German "Kindergraves Foundation, Volunteer teacher at Hoffman Boston Elementary School in Arlington Virginia, Evening tutor at Shiloh, Co-Coordinator of the Community Health Fair, First Vice President of the Fort Huachuca Parent Teacher Organization, DoDEA Grant Reviewer.