Board of Advisors
&

Subject Experts
Don Fidler, MD
Co-Founder & Senior Clinical Consultant
Dr. Donald Fidler's expertise and background is the cornerstone of this unique collaboration between professional filmmakers and mental health professionals.
Read More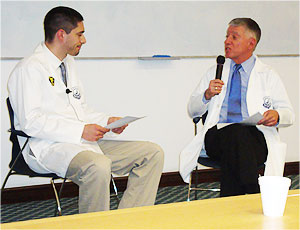 Dr. Donald Fidler brings over thirty years of experience as a psychiatrist, actor, educator, screenwriter, playwright and filmmaker to Symptom Media. Don built his reputation as the cutting edge leader in utilizing clinical training vignettes to teach the behavioral sciences, combining his unique skill set as a psychiatrist, playwright, screenwriter, actor, and teacher to create accurate, realistic portrayals of psychiatric symptoms and disorders. Don's expertise and background is the cornerstone of this unique collaboration between professional filmmakers and mental health professionals.
Dr. Donald Fidler has lectured and taught throughout the United States as well as in Canada, Australia, New Zealand, Israel, and Oman. Don served as President of the Association for Academic Psychiatry, Chair of the Video Committee for the American Psychiatric Association, and was awarded the Life Time Achievement Award for the Association for Academic Psychiatry.
Dr. Donald Fidler is Professor Emeritus at West Virginia University where he served as the Farnsworth Endowed Chair of Educational Psychiatry and as the Director of the WVU Health Sciences Teaching Scholars Program. He continues to be an Adjunct Professor of Theatre at West Virginia University. He graduated from the School of Medicine and completed his Psychiatry Residency both at the University of North Carolina at Chapel Hill. He served on the Psychiatry Faculty at both the University of North Carolina at Chapel Hill and West Virginia University as well as serving as a psychiatrist in Australia and New Zealand. He is an Honorary Fellow of the Royal College of Physicians of Ireland. He teaches playwriting at MTPockets Theatre in Morgantown, West Virginia and consulted and appeared for educational programs with psychiatric content for PBS, HBO and FOX. He is the composer/author of over 50 produced educational clinical films, 12 major plays, and three musicals.
Visit his website at https://www.dcfidler.com/
Bonnie Lipton


Clinical Consultant

Bonnie Lipton, LMFT, is a psychotherapist in private practice since 1982. She works in Palm Desert, California with clients of all ages who struggle with
Read More
anxiety, mood, or depression disorders. She runs bereavement groups, women in transition groups, and a support groups for family and friends of persons dealing with cancer. She is a past President of the Desert Chapter of CAMFT.
Karen Silva


PhD (Psychology), MFN, MSN, and RN-BC, Subject Expert

Karen Silva, PhD (Psychology), MFN, MSN, and RN-BC, has won multiple awards for Excellence in Nursing. She has taught all major nursing courses, supervised nursing staff, and coordinated educational programs.
Read More
Karen's expertise is in Mental Health and Psychiatric Nursing and she has served in psychiatric units, as well as crisis centers. Karen is tri-lingual (English, Portugese, and Spanish) and a co-founder of SOBEF (Sociedade Brasileira de Enfermagem Forense) in Brazil. She is a much sought-after speaker at conferences, hospitals, and universities.
David Paltin


Phd, Subject Expert

Dr. David Paltin is a licensed psychologist maintains an active clinical practice, and teaches psychology courses at Chapman University, National University, and Columbia College. He has authored books and articles on behavioral health topics ranging from
Read More
ADHD to Violence Prediction and Borderline Personality Disorder.  Dr. Paltin has specialization in pediatric mental health diagnosis and treatment, sleep disorders, and has helped design systems of care delivery in pediatric, adult, and educational settings.
Stephanie Arnold


MSN, Psychiatric/Mental Health Clinical Nurse Specialist, Subject Expert

Stephanie Arnold is an Adult Psychiatric/Mental Health Clinical Nurse Specialist working as an advance practice nurse in psychiatry. She holds an undergraduate degree in Celtic Studies from UC Berkeley, an MSN from Cal State Los Angeles, and is a doctoral candidate in the University
Read More
of Alabama's DNP program. Stephanie also teaches mental health nursing to graduate and undergraduate students. She is a member of Sigma Theta Tau and Golden Key International Honour Societies. She was inducted into a chapter of the Philanthropic Educational Organization and is an active member serving on the Ways and Means Committee.
Brooke Bartlett


Ph.D., Licensed Psychological Associate – Content Expert

Dr. Bartlett is a licensed clinical psychologist and the CEO/owner of the Center for Trauma, Anxiety, and Stress Inc. (CTAS). She has specific expertise in trauma-, anxiety-, and stressor-related disorders and symptoms, particularly among military members
Read More
and first responders.  Dr. Bartlett has trained at some of the nation's most renowned institutions for PTSD and anxiety in both clinical and research roles, and has an extensive research portfolio in the scientific literature focused on traumatology. Through her private practice, she provides a variety of services including consultation, psychological assessments, speaking engagements, and subject matter expertise; a major focus of her professional work is promoting first responder wellness by assisting agencies in the creation and implementation of mental wellness programs. Dr. Bartlett is also a professor of psychology at several higher education institutions teaching a range of courses in psychology.
Monica Martocci


MA, LMFT, Subject Expert

Monica L. Martocci, MA, LMFT received an M.A. in Clinical Psychology from Pepperdine University, a B.A. in Psychology from the University of Colorado, and is a licensed Marriage and Family Therapist (License #LMFT36882). Monica has over 25 years of clinical experience in diverse settings…
Read More
and has developed, implemented, and supervised several programs that are recognized locally and nationally as being exemplary. She has a broad background in program development and service delivery, clinical supervision, and training for inpatient residential treatment and outpatient day treatment programs working primarily with adolescents, adults, veterans, and their families. Monica has experience with many different client populations in a wide variety of settings, including those with severe and persistent mental illness, co-occurring disorders, addictions, homelessness, and trauma. She has worked closely with the Dept. of Mental Health, Dept. of Children and Family Services, Probation including juvenile and adult justice systems, Drug Court and Veterans Court, LAUSD and school settings, Hospitals, Regional Centers, Adoptions and Foster Family Agencies, VA, Clinical Studies/Drug Research, and has consulted on a number of television shows as an expert on families, addictions, eating disorders, and trauma. In addition, she is a seasoned presenter in nationwide conferences on the topics of trauma and recovery, and co-occurring disorders.
Monica is currently working as Chief Clinical Officer for CLARE Foundation. She also maintains a private practice in WLA and Long Beach specializing in the treatment of children, adolescents, families, active duty military/veterans, as well as individuals and couples. Focus is on addictions, co-occurring disorders, trauma, eating disorders, depression, anxiety, child/sexual abuse, domestic violence, schizophrenia, bipolar disorder, mood disorders, grief and loss, school and behavioral issues, ADHD/ADD, personality disorders, self-harm, self-esteem, and interpersonal and relationship issues.
Aaron Miller


MS, RN, PMHNP-BC, Subject Expert

Aaron Miller, MS, RN, PMHNP-BC is an ANCC Board Certified Family Psychiatric Mental Health Nurse Practitioner with over 11 years of experience working as an Advanced Practice Registered Nurse with individuals with serious mental illness including personality disorders.
Read More
Aaron has a master's degree in science, currently works as a faculty member in a Psychiatric Mental Health Nurse Practitioner Master's program in San Francisco, CA, and maintains a clinical practice in Oakland and Santa Rosa, CA with individuals with severe and chronic mental illness.
Roberta Freeman


RN, MSN, CS, Subject Expert

Roberta Freeman, RN, MSN, CS is a certified Psychiatric and Mental Health Nurse with over 35 years of experience as a practitioner, educator, consultant and researcher in the Adolescent Unit at UCLA Resnick Neuropsychiatric Hospital.
Read More
She has collaborated in program evaluation, assessing interventions to improve care, conducted comprehensive evaluation/assessment of adolescents who have been referred for treatment in the Eating Disorder program, established and monitored patient care standards, provided group therapy for adolescents, collaborated with interdisciplinary treatment team in evaluating, diagnosing, and coordinating patient care throughout hospitalization and disposition planning, and much more. She is an active member of the Academy for Eating Disorders and Advanced Practice Nursing Association.