Vascular Dementia CE Course Preview
Accreditation Information for Vascular Dementia CE Course
Course Title: Neurocognitive Disorder – Vascular Dementia
Release date: July, 2020
Expiration date: July, 2022
Estimated time to complete activity: 1.5 hours
Hardware / Software Requirements: Compatible with Internet Explorer 6 and up, Mozilla Firefox 3 and up, Safari 4.0, and Google Chrome 10 and up.
If you have any questions, please contact MER at (800)-421-3756, http://www.cmepartner.org/contact
To see MER Privacy Policy, scroll to bottom of this page.
This activity is jointly provided by Medical Education Resources and Symptom Media.
Target Audience
Healthcare professionals and students (nursing, social services, psychology, medicine) will benefit from the educational video and reinforcing literature.
Underlying Need for this Course
The purpose of this activity is to expand the student's overall knowledge about neurocognitive disorders and its differential diagnoses, with a special attention to the Vascular Dementia (VaD).
 The various types of degenerative disorders are often mixed up, due to all types of dementia sharing some commonalities.
Differential diagnosis among different types of neurocognitive disorders can be quite challenging.
Vascular dementia (VaD) is the second most common cause of dementia, either alone or in combination with Alzheimer's disease (Venkat, Chopp & Chen, 2015).  The DSM-V states that 20-30% of individuals who had a stroke, will develop VaD within 3 months (APA, 2013).  Data has shown that these two disorders are probably intertwined as they found vascular risk factors in Alzheimer's disease. Therefore, a clear diagnosis between VaD and AD may pose a challenge in some cases (Korczyn, Vakhapova & Grinberg, 2012).
In this activity, students will:
Familiarize with what is known about the pathophysiology of Vascular dementia.
Distinguish vascular dementia  from other neurodegenerative disorders.
Identify risk factors contributing to vascular dementia.
Identify alternatives to treat vascular dementia and improve clinical manifestation.
Learning Objectives
By the end of this course learners will be able to:
Define neurodegenerative disorders.
Identify patients with possible vascular dementia based on history and clinical manifestation.
Establish therapeutic milieu when treating patients with neurodegenerative disorders.
Identify treatment options that could delay the progress of the illness, improve symptoms, and assist in preserving functional level.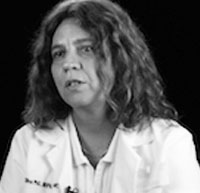 Meet your instructor: Karen B. Silva PhD, MSFN, RN-BC. Board certified nurse in Mental Health and Psychiatric nursing. Has a doctoral degree in general psychology, and two master's degrees in Advance practice Nursing in Adult and Geriatric Health and Forensic Nursing. Over 30 years of experience in psychiatric nursing  and over 12 years in education. Currently work as an Education Program Coordinator and Instructor of Psychiatry in a large hospital in Los Angeles, CA.
Course Agenda
The content of the lecture is focused on Vascular dementia, how it is presented in clinical settings, what to look for when diagnosing it, and what options are available to manage it.
The written content provides the learner with an overview of neurodegenerative disorders with a focus on Vascular dementia: definition, risk factors, clinical presentation, prevalence, differential diagnosis, management of symptoms. The education is illustrated with two videos portraying patients in several stages of vascular dementia. The student will be able to have a better overview of the clinical manifestation of this neurocognitive disorder.
Physician Credit
This activity has been planned and implemented in accordance with the accreditation requirements and policies of the Accreditation Council for Continuing Medical Education (ACCME) through the joint providership of Medical Education Resources (MER) and Symptom Media. MER is accredited by the ACCME to provide continuing medical education for physicians.
Credit Designation
Medical Education Resources designates this enduring material for a maximum of 1.5 AMA PRA Category 1 Credit(s)™. Physicians should claim only the credit commensurate with the extent of their participation in the activity.
Nursing Credit
Medical Education Resources is accredited as a provider of continuing nursing education by the American Nurses Credentialing Center's Commission on Accreditation.
This CE activity provides 1.5 contact hours of continuing nursing education.
Medical Education Resources is a provider of continuing nursing education by the California Board of Registered Nursing, Provider #CEP 12299, for 1.5 contact hours.
Disclosure of Conflicts of Interest
Medical Education Resources ensures balance, independence, objectivity, and scientific rigor in all our educational programs. In accordance with this policy, MER identifies conflicts of interest with its instructors, content managers, and other individuals who are in a position to control the content of an activity. Conflicts are resolved by MER to ensure that all scientific research referred to, reported, or used in a continuing education activity conforms to the generally accepted standards of experimental design, data collection, and analysis. MER is committed to providing its learners with high-quality activities that promote improvements or quality in health care and not the business interest of a commercial interest.
The faculty reported the following financial relationships with commercial interests whose products or services may be mentioned in this activity:

The content managers reported the following financial relationships with commercial interests whose products or services may be mentioned in this activity:

Method of Participation
There are no fees for participating in and receiving credit for this activity (or insert fee amount if applicable). During the period July, 2020 through July, 2022, participants must 1) read the learning objectives and faculty disclosures, 2) study the educational activity, 3) complete the posttest by recording the best answer to each question, 4) complete the evaluation.
A statement of credit will be issued only upon receipt of a completed activity evaluation form and a completed posttest with a score of 70% or better.

References
American Psychiatric Association. (2013). Neurocognitive Disorders. In Diagnostic and statistical manual of mental disorders (5th ed.). Available at https://doi.org/10.1176/appi.books.9780890425596.dsm17
Klatka L. A., Schiffer R. B., Powers J. M. and Kazee A. M. (1996) Incorrect diagnosis of Alzheimer's disease. A clinicopathologic study. Archives of Neurology,  53, 35– 42.
Knopman, D.S.; Gottesman, R.F.; Sharrett, A.R.; Wruck, L.M.; Windham, B.G.; Coker, L.; Schneider, A.L.C.; Hengrui, S.; Alonso, A.; Coresh, J.; Albert, M.S. and Mosley Jr., T.H. (2016). Mild cognitive impairment and dementia prevalence: The atherosclerosis risk in communities neurocognitive study. Alzheirmer's & Dementia Diagnosis, Assessment & Disease Moitoring, 2, 1-11.  https://doi.org/10.1016/j.dadm.2015.12.002
Knopman, D.S.; Gottesman,R.F.; Sharrett, A.R.; Tapia,A.L.;  Thomas, S.D.; Windham,B.G.;  Coker, L.; Schneider, A.L.C.;  Alonso, A.; Coresh, J.;  Albert, M.S. and Mosley, T.H. (2018). Midlife vascular risk factors and midlife cognitive status in relation to prevalence of mild cognitive impairment and dementia in later life: The Atherosclerosis Risk in Communities Study, Alzheimer's & Dementia, 14 (11),1406-1415. Wiley Online Library.
Lee A. Y. (2011). Vascular dementia. Chonnam medical journal, 47(2), 66–71. https://doi.org/10.4068/cmj.2011.47.2.66
National Institute on Aging (December, 2017). What Is Dementia? Symptoms, Types, and Diagnosis. National Institute of Health.  Available at https://www.nia.nih.gov/health/what-dementia-symptoms-types-and-diagnosis.
Roman, G.C. (2003). Vascular dementia: Distinguishing characteristics, treatment, and prevention. Journal of American Geriatrics Society, 51, 296-304.   https://doi.org/10.1046/j.1532-5415.5155.x
Rusanen, M.; Kivipelto, M.; Quesenberry Jr., C.P.; Zou, J. and Whitmer, R.A. (2011). Heavy smoking in midlife and long-term risk of Alzheimer disease and vascular dementia. Archives Internal Medicine, 171 (4), 333-339. doi:10.1001/archinternmed.2010.393
Venkat, P., Chopp, M., & Chen, J. (2015). Models and mechanisms of vascular dementia. Experimental neurology, 272, 97–108. https://doi.org/10.1016/j.expneurol.2015.05.006
Disclaimer
The content and views presented in this educational activity are those of the authors and do not necessarily reflect those of Medical Education Resources, Symptom Media and/or [insert grantor]. The authors have disclosed if there is any discussion of published and/or investigational uses of agents that are not indicated by the FDA in their presentations. Before prescribing any medicine, primary references and full prescribing information should be consulted. Any procedures, medications, or other courses of diagnosis or treatment discussed or suggested in this activity should not be used by clinicians without evaluation of their patient's conditions and possible contraindications on dangers in use, review of any applicable manufacturer's product information, and comparison with recommendations of other authorities. The information presented in this activity is not meant to serve as a guideline for patient management.
MER Privacy Policy: cmepartner.org/privacy