Lunch
&

Learn Review

By: Rachel Nall, MSN, CRNA, APRN, Assistant Clinical Professor and Simulation Lab Coordinator, University of Tennessee at Chattanooga Nurse Anesthesia Program 
When I need to sharpen my assessment skills and earn continuing education (CE) credits, but don't have hours to sit and click through slides, Symptom Media's Lunch & Learn courses are a great fit. Designed to be watched in the span of a lunch break (usually about 30 minutes), the courses incorporate different interactive elements of learning, including brief, informative definitions and videos featuring simulated patient actors participating in condition-related interviews. A post-test helps to challenge me and ensure I retained the information found in the course. 
Why Symptom Media's Lunch & Learn
The Lunch & Learns feature an easy-to-follow format: succinct, informative pages on the topic at hand, followed by video case presentations. The video cases help to illustrate real-world examples of interviews a mental health professional may participate in as part of the diagnostic or treatment process. They feature a patient actor and an offscreen interviewer. Although well-suited for a seasoned health professional, the videos and learning materials are also useful for professors and students wishing to evaluate and discuss patient interviews. 
Subscribing to Symptom Media's Lunch & Learn Courses is like gaining access to simulated patient actors without having to research and author scripts or arrange for actors for interviews. This accessibility represents a significant time- and cost-savings for professors. The fact that they are short courses also makes them ideal for incorporating into a pre-existing lecture or a lunch-and-learn student opportunity.
Benefits:
For mental health professionals in practice, the courses allow you to earn CEs in short, easy-to-follow timespans. The learning points are informative, yet concise, and the ability to cement your learning and enhance your assessment skills through watching the patient videos truly makes for a worthwhile CE learning opportunity.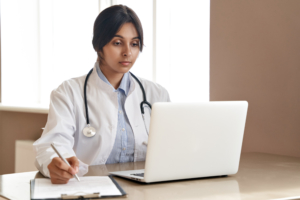 Students can also find value in these courses as they are well-researched video illustrations of how patients may present with different mental health disorders. 
One of the first courses I elected to  complete was the course on anorexia nervosa-restricting type. The course addressed the major points of symptom identification for this mental health disorder as well as offered a refresher on DSM-5-TR diagnostic criteria. Being able to read this information, then watch the nearly 8-minute video, helped me to identify when the patient was describing key diagnostic criteria. 
As a professor and simulation educator, I can see incorporating this video or others like it into an assessment assignment or reflection opportunity to allow students to view patient interviews and discuss. Having these videos on-hand without having to write an extensive backstory (or try my hand at acting myself) is a tremendous asset to my teaching and time. I also feel more prepared in my own practice to recognize the symptoms a patient is describing more easily.
Conclusion:
In a world short on time and even shorter on attention spans, the Lunch & Learns were an excellent opportunity to gain continuing education credits in a way that I enjoyed and was able to effectively learn. I plan to incorporate them into the courses I already utilize on the Symptom Media website, both for my personal learning and for teaching in the classroom setting. 
To view the complete course listing of Symptom Media's Lunch & Learn, please visit: https://symptommedia.com/ce-course-collection/