CE Course Collection:
ACCME, ANCC, APA and ASWB ACE Accredited Continuing Education Courses for Healthcare Professionals
NEW: APA & ASWB ACE Accredited CE Courses!!!
Introducing Symptom Media's Lunch & Learn
CE's for your Lunch Hour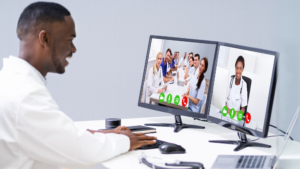 Got 30 minutes? Then you've got time to earn CEs through Symptom Media's Lunch and Learn activities. These concise, informative learning opportunities focus on different mental health disorders. Each activity also includes a video case study that enhances your learning. Use them to brush up on a topic you haven't re-visited in a while, quickly earn CEs, or as an interactive teaching tool.
I have found Symptom Media's training invaluable. It is some of the best clinical training I have received in quite some time. It is specific, focused and the mixture between psychiatric content, video case examples and how this content informs the psychiatric data is incredible.

Todd Brandon, M.S., Oregon Licensed Professional Counselor
Scroll down or click the quick links below to search our CE Course Collection.
Autism Spectrum Disorder Courses
Depressive Disorder Courses
Disruptive, Impulse-Control, and Conduct Disorders Courses
Feeding & Eating Disorder Courses
Neurocognitive Disorder Courses
Personality Disorder Courses
Sleep-Wake Disorders Courses
Somatic Symptom and Related Disorder Courses
Substance-Related & Addictive Disorders Courses
Trauma- and Stressor-Related Disorder Courses
Adjustment Disorder Courses
Posttraumatic Stress Disorder Courses