Bipolar I Disorder CE Course Preview
Accreditation Information
Course Title: Bipolar Disorder Type 1, in Manic State
Release date: [Month] [Year]
Expiration date: [Month] [Year]
Estimated time to complete activity: [#] hours
Hardware / Software Requirements: Compatible with Internet Explorer 6 and up, Mozilla Firefox 3 and up, Safari 4.0, and Google Chrome 10 and up.
If you have any questions, please contact MER at (800)-421-3756, http://www.cmepartner.org/contact
To see MER Privacy Policy, scroll to bottom of this page.
This activity is jointly provided by Medical Education Resources and Symptom Media.
Target Audience
Psychiatrist, psychologists, social workers, marriage and family therapists, substance abuse counselors, allied health professionals, nurses, general practice physicians, and students, interns, and trainees of these disciplines.
Underlying Need for this Course
The purpose of this activity is to expand the student's knowledge about Bipolar Disorder's symptoms, presentation, intervention and treatment choices.
Nursing students have limited clinical hours in psychiatric settings (Brown, 2008), which restrict students from learning the complexity of psychiatric disorders due to lack of opportunity to encounter patients in acute episodes of their illness.
A 2007 study involving undergrad psychiatric nursing educators showed that the decrease in availability and quality of clinical sites, poor nursing role models, decreased number of clinical hours are some of the barriers for nursing students to achieve competencies in psychiatric nursing. Moreover, the authors mentioned the need to include simulations or laboratory experiences to enhance education (Patzel, Ellinger & Hamera, 2007).
Behavioral issues are often undermanaged by nurses that are not experts in behavioral science. More particularly the behaviors displayed by patients who have a psychiatric diagnosis and present in a decompensated phase of the illness. There is a general concern amongst nurses, to understand the illness and to learn strategies that can either manage the challenging behavior and or not trigger worsening of the symptoms.
Learning Objectives
By the end of this course learners will be able to:
Define Bipolar disorder
Explain the possible causes of Bipolar Disorder Type I
Verbalize the common behaviors displayed by patients in manic phase of Bipolar disorder type 1
Identify behaviors that are potential for harm of self or others
Name three alternatives used in the treatment of Bipolar Disorder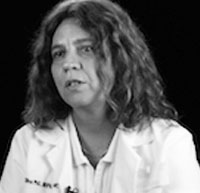 Meet your instructor: Karen B. Silva PhD, MSFN, RN-BC. Board certified nurse in Mental Health and Psychiatric nursing. Has a doctoral degree in general psychology, and two master's degrees in Advance practice Nursing in Adult and Geriatric Health and Forensic Nursing. Over 30 years of experience in psychiatric nursing  and over 12 years in education. Currently work as an Education Program Coordinator and Instructor of Psychiatry in a large hospital in Los Angeles, CA.
Course Agenda
The content of the lecture is focused on Bipolar Disorder: how it is presented in clinical settings, what to look for when diagnosing it, and what options are available to treat it.
To complete this activity and obtain CE credit, the learner must do the following:
Read this Course Introduction/Disclosures section in its entirety.
Read the course material.
View all video lectures from the instructor in their entirety.
View the video case study with expert analysis in its entirety.
View the video case study without expert analysis in its entirety.
 Complete the chapter reviews and Post Test with a score of 80% or more.
Submit the online activity evaluation form.
Physician Credit
This activity has been planned and implemented in accordance with the accreditation requirements and policies of the Accreditation Council for Continuing Medical Education (ACCME) through the joint providership of Medical Education Resources (MER) and Symptom Media. MER is accredited by the ACCME to provide continuing medical education for physicians.
Credit Designation
Medical Education Resources designates this enduring material for a maximum of XX AMA PRA Category 1 Credit(s)™. Physicians should claim only the credit commensurate with the extent of their participation in the activity.
Nursing Credit
Medical Education Resources is accredited as a provider of continuing nursing education by the American Nurses Credentialing Center's Commission on Accreditation.
This CE activity provides [XX] contact hours of continuing nursing education.
Medical Education Resources is a provider of continuing nursing education by the California Board of Registered Nursing, Provider #CEP 12299, for [insert] contact hours.
Disclosure of Conflicts of Interest
Medical Education Resources ensures balance, independence, objectivity, and scientific rigor in all our educational programs. In accordance with this policy, MER identifies conflicts of interest with its instructors, content managers, and other individuals who are in a position to control the content of an activity. Conflicts are resolved by MER to ensure that all scientific research referred to, reported, or used in a continuing education activity conforms to the generally accepted standards of experimental design, data collection, and analysis. MER is committed to providing its learners with high-quality activities that promote improvements or quality in health care and not the business interest of a commercial interest.
The faculty reported the following financial relationships with commercial interests whose products or services may be mentioned in this activity:

The content managers reported the following financial relationships with commercial interests whose products or services may be mentioned in this activity:

Method of Participation
There are no fees for participating in and receiving credit for this activity (or insert fee amount if applicable). During the period [release month] [year] through [expiration date], [year], participants must 1) read the learning objectives and faculty disclosures, 2) study the educational activity, 3) complete the posttest by recording the best answer to each question, 4) complete the evaluation.
A statement of credit will be issued only upon receipt of a completed activity evaluation form and a completed posttest with a score of 70% or better.

References
Brown, J.F. (2008).  Applications of simulation technology in psychiatric mental health nursing education. Psychiatric and Mental Health Nursing, 15 (8), 638-644.  Available at https://onlinelibrary.wiley.com/doi/full/10.1111/j.1365-2850.2008.001281.x
Ciandinoto, J. and Edward, K. L (2014).G. Challenges in acute care of people with co-morbid mental illness.  British Journal of Nursing, 23 (13), 728-732. Vailable at http://www.marianjoylibrary.org/Nursing/journalclub/documents/challenges.pdf
Patzel, B.; Ellinger, P. ; Hamera, E. (2007). Tomorrow's Psychiatric Nurses: Where Are We Today in Providing Students' Clinical Experiences?Journal of the American Psychiatric Nurses Association, 13 (1), 53-60. Avaliable at https://journals.sagepub.com/doi/abs/10.1177/1078390307301737
Ramezani, T., Gholamzadeh, S., Torabizadeh, C., Sharif, F., & Ahmadzadeh, L. (2017). Challenges of Nurses' Empowerment in the Management of Patient Aggression: A Qualitative Study. Iranian journal of nursing and midwifery research, 22(6), 442-448. Available at https://www.ncbi.nlm.nih.gov/pmc/articles/PMC5684791/
Disclaimer
The content and views presented in this educational activity are those of the authors and do not necessarily reflect those of Medical Education Resources, Symptom Media and/or [insert grantor]. The authors have disclosed if there is any discussion of published and/or investigational uses of agents that are not indicated by the FDA in their presentations. Before prescribing any medicine, primary references and full prescribing information should be consulted. Any procedures, medications, or other courses of diagnosis or treatment discussed or suggested in this activity should not be used by clinicians without evaluation of their patient's conditions and possible contraindications on dangers in use, review of any applicable manufacturer's product information, and comparison with recommendations of other authorities. The information presented in this activity is not meant to serve as a guideline for patient management.
MER Privacy Policy: cmepartner.org/privacy