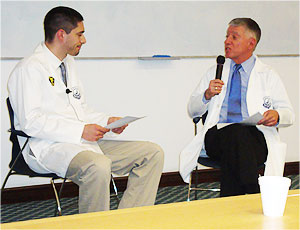 Dr. Donald Fidler brings over thirty years of experience as a psychiatrist, actor, educator, screenwriter, playwright and filmmaker to Symptom Media. Don built his reputation as the cutting edge leader in utilizing clinical training vignettes to teach the behavioral sciences, combining his unique skill set as a psychiatrist, playwright, screenwriter, actor, and teacher to create accurate, realistic portrayals of psychiatric symptoms and disorders. Don's expertise and background is the cornerstone of this unique collaboration between professional filmmakers and mental health professionals.
Dr. Donald Fidler has lectured and taught throughout the United States as well as in Canada, Australia, New Zealand, Israel, and Oman. Don served as President of the Association for Academic Psychiatry, Chair of the Video Committee for the American Psychiatric Association, and was awarded the Life Time Achievement Award for the Association for Academic Psychiatry.
Dr. Donald Fidler is Professor Emeritus at West Virginia University where he served as the Farnsworth Endowed Chair of Educational Psychiatry and as the Director of the WVU Health Sciences Teaching Scholars Program. He continues to be an Adjunct Professor of Theatre at West Virginia University. He graduated from the School of Medicine and completed his Psychiatry Residency both at the University of North Carolina at Chapel Hill. He served on the Psychiatry Faculty at both the University of North Carolina at Chapel Hill and West Virginia University as well as serving as a psychiatrist in Australia and New Zealand. He is an Honorary Fellow of the Royal College of Physicians of Ireland. He teaches playwriting at MTPockets Theatre in Morgantown, West Virginia and consulted and appeared for educational programs with psychiatric content for PBS, HBO and FOX. He is the composer/author of over 50 produced educational clinical films, 12 major plays, and three musicals.